James Calvin Rollins
Private, Company K
9th Texas Cavalry
1836 - 1 Nov 1920
By Russell Rollins
217 Modoc Trail
Lake Kiowa, TX 76240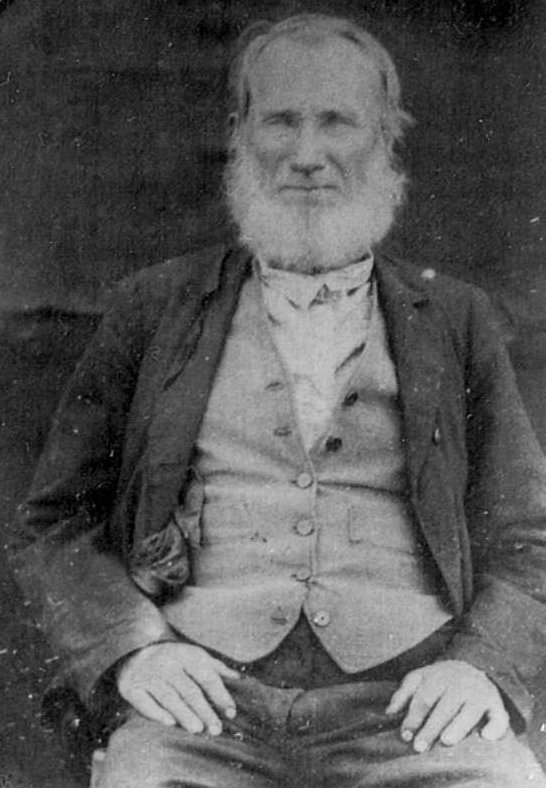 James Calvin Rollins was born in Tennessee in 1836 to Elias Asbury and Delila Barcroft Rollins. This was three years before they moved to Texas. They arrived in Red River County, Texas in November 1839.
James Calvin and his brother John Rollins enlisted in the army of the Confederate States on October 14, 1861 at Camp Reeves, Texas (near Sherman, Grayson County, Texas). The group of people from Hopkins county were designated as company K of the 9th Texas Cavalry Regiment. On both their service records it shows, Arms-good, clothing - very indifferent, instruction - tolerable good.
Their unit was in the following battles:
Elkhorn
Corinth
Murfreesboro
Nashville
Franklin
Iuka
Kennesaw Mountain
Marietta
Atlanta
Jonesboro
The unit surrendered in Mississippi when the war was over. Cal was always active in the Civil War Veterans meetings in Harmon County, Oklahoma where he lived his last years. There were veterans from both the North and the South involved.
After the war, James Calvin (Cal) Rollins married Eliza Ellen Burns in 1866. They had three sons Madison, Samual, and John Blufford while living in Hopkins county Texas. They left Hopkins County sometime in 1870.
The next records are the birth of Jake in McClennon County, Texas on 7 Feb 1877. His brother Harrison J. was there at the same time, because records show that Jesse Henry was born in McClennon County 23 May 1878. Cal moved his family to Jack County, Texas in 1880. He filed on 54 acres of land on 23 Feb 1880. It was located 8.2 miles northeast of Jacksboro, Texas. Evidently in the time between 1870 and 1880, Madison and Samuel died, because they do not show up on the 1880 census. See below
| | | |
| --- | --- | --- |
| Name | Age | Birth Place |
| James Calvin Rollins | 44 | TN |
| Eliza Ellen Rollins | 36 | MO |
| John Blufford Rollins | 10 | TX |
| Charles Rollins | 7 | TX |
| Ida Rollins | 6 | TX |
| Jackson E. Rollins | 2 | TX |
| Son (Alvin) | 3 months | TX |
| J. M. Burns (father-in-law) | 66 | MO |
| Nancy Burns (wife) | 66 | MO |
It is unknown if Eliza's parents left Hopkins County with the family or if they joined them later. It is also unknown when they died. There are no records of them. Baby daughter Lou was born in Jack County in 1883. It is not known when Cal moved his family out of Jack County, but there was a severe drought in the mid 1880's. The next record is that the family was in Indian Territory in 1889.
Elias, father of Cal, died in 1889. An instrument from the Hopkins county clerk's office, dated 16 Jul 1889 shows J. C. Rollins sold his share of the estate to his brother William D. Rollins for 175 dollars. It mentioned 177 acres in Clay County, Texas, several lots in Blackjack Grove and "any real estate my mother may own at her death." On 20 Feb 1889 an instrument indicates that Delila, J. C., H. J., W. D. Rollins and James Dunahoo (guardian of Frank Dunahoo) transferred two lots in Blackjack Grove to Jenetta Richards as her part of Elias's estate.
Cal's family lived on a farm near the town of Mannsville in Indian territory. There is a cemetery on the farm today called the Rollins Cemetery. John Blufford Rollins and Lula Arminda Orr were married at Mannsville on 26 Oct 1890. The story is that someone from Mannsville was going back to their former home to visit and John Blufford told them to bring Lula back with them so they could be married.
In those days no one but Indian could own land in Indian territory, you had to rent or lease land. John Blufford Rollins lived with the Indians for some time before his marriage.
In December 1899 Cal loaded up his family and moved to western Oklahoma. Lula was expecting a child, so she stayed with relatives in Quanah until Dude was born. Cal and John Blufford each filed on 160 acres of land that were adjoining. This 320 acres are still in the Rollins name. It is 6 miles south of Hollis, Oklahoma.
Eliza Ellen Rollins died on 7 Mar 1916. James Calvin Rollins died on 1 Nov 1920. Both were buried in the Fairmount Cemetery in Hollis, Harmon County, Ok.
---
The picture of James Calvin Rollins was reproduced from a tin-type from Lena Rollins now in possession of Clinton Wayne Rollins. They were about 60 years old.
---
©Ron Brothers and Russell Rollins, 1999, All Rights Reserved.
Return to 9th Texas Cavalry Biographies