ADD'L INFORMATION:
Lawrence Ray Price has cleaned up and repaired the stones. He has place a fence around the graves to protect them and has done a wonderful job of honoring these pioneer graves.

In the records of Elizabeth Booth, the three graves of Samuel C. Price, his son, Samuel W. and grandson Infant Williams are n3ot specifically located in Mrs. Booth's notes except that they are on the original headright survey of Samuel C. Price in Lamar County [for 640 acres] about 13 miles SE of Paris, specifically, 12 1/2 degrees South, 9 degrees East, abstract number 740 in quadrant F67. She did indicate that they were marked by stones.

The following persons are known to be buried here: Samuel Cecil Price 27 Feb 1813 - 11 Feb 1848, his infant son, Samuel W. Price 29 May 1847 - 29 Jan 1848 and unnamed grandchild, son of James Miller Williams and Elizabeth C. Price 2 May 1865 - 2 May 1865.
PICTURE(S):
Pictures are provided courtesy of photographer, Gary Glen Price, a descendant of Samuel Cecil Price's youngest brother, George T. Price (1823-1906).
Price Family Cemetery containing graves of Samuel Cecil Price (1813-1848), his infant son Samuel W. Price (1847-1848), and an unnamed infant grandchild (d. 1886), son of James Miller Williams & Elizabeth C. Price.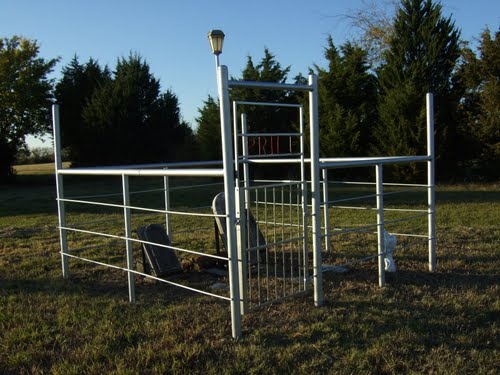 Grave and Gravestone of Samuel Cecil Price, Sr. (b. 27 Feb 1813 in Elk Garden, Russell Co., VA; d. 11 Feb 1848 on tract of land where buried--Glory, Lamar Co., TX), son of William Price (1788-1837) & Elizabeth Cecil (d. 1841)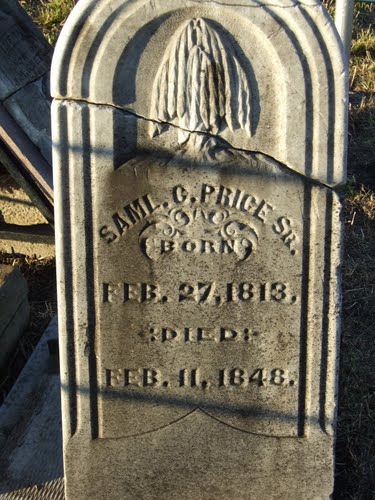 Although she isn't buried in Price Cemetery, this is provided here as she was the wife of Samuel C. Price. Gravestone of Margaret Jane Miller Price (b. 18 Sep 1817 in Washington Co., VA; d. 01 Feb 1907 in Lamar County, TX. She is buried in Antioch Cemetery, Biardstown, TX.