ADD'L INFORMATION:
The Harman Cemetery is located on what was once the Harman Plantation. It consisted of 1280 acres owned by John Troxell Harman Sr. Several Harman families emigrated from TN around 1834 to what is now Lamar County when Texas was still a part of the Republic of Mexico. There are probably 200 graves there, mostly early pioneer settlers of the Harman families and their descendants, as well as Charlie Harman Lewis (1881-1898) & his father Robert Henry Tandy Lewis (1847-1885). When the land was sold it was plowed and planted so all of the graves have been lost. All that remains, as of 2015, are the stones shown in the pictures below, which have been shoved under a cedar tree.

Elizabeth Booth first read this cemetery on April 23, 1971. A monument that was inside the cemetery was inscribed: "Harman Cemetery Established Under The Republic of Texas." This monument is the bottom of the headstone that reads "Henry Tandy Lewis, son of Lacy Tandy & Sallie Harman Lewis - Sept. 1, 1847 - July 8, 1885."

Ms. Booth also stated that Dr. L. L. Lewis was the son of Lacy Tandy Lewis and Sallie Harmon Lewis. Tradition is that L. Tandy Lewis was killed when Dr. L. L. Lewis was ten months old by a person named Cushinberry while still in Alabama. However, Lacy Tandy Lewis and wife Susan (Sallie) are listed on the 1850 Lamar County, Texas Federal Census so this is not possible. Another researcher also states that Lacy Tandy Lewis died sometime after a head injury. He rode his horse out of a barn and hit his head on the building. He died in Lamar County, not Alabama. This was told this by the granddaughter of his daughter, Sarah/Sallie, who lived with him.

The preceding information is disputed by Linda Lewis, a family descendant, who states that there is no Dr. L. L. Lewis in their family. They believe that the information may have been referring to Dr. R. L. Lewis, but he was Lacy's grandson born in 1884. According to R. L. Lewis, Lacy died in Sept of 1883, over a year before he was born. Descendants further state that Lacy Tandy never was in Alabama. He went to TN for a while but came back to Lamar County.

At one time there was an old capstone grave cover, crumbled and broken, that appeared to have had hand carved initials of several people, M. H. H? and J. W. ? There could be Ables as well as other Harmans and Craigs buried here.

The location was first visited on 18 Mar 1995 by Butch and Betsy Mills and should not be mistaken for the 'Harmon' Community Cemetery in the southwest quadrant of the county. There are only 3 identifiable graves in 2015. It is obvious that some farmer in the past saw it to be more profitable to have covered the other remnants of graves. The following persons are known to be buried here: J. W. ?? (no dates), M. H. H. footstone, John R. Harman 8 Nov 1807 - 16 May 1871, Charlie Harman Lewis 21 Sep 1881 - 5 Nov 1898 and Henry Tandy Lewis 1 Sep 1847 - 8 Jul 1885.
PICTURE(S):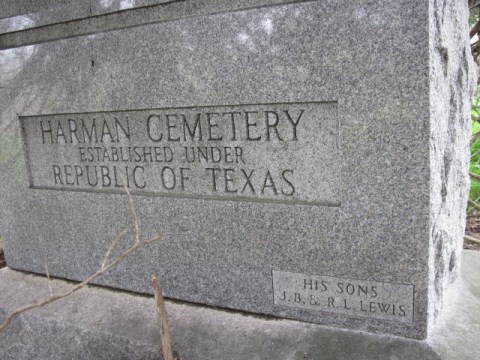 This cemetery name marker is actually the bottom of the marker inscribed:
"Henry Tandy Lewis, son of Lacy Tandy & Sallie Harman Lewis."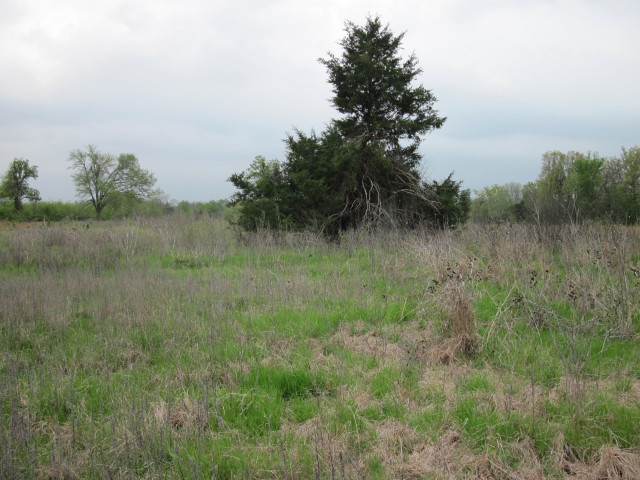 The 3 remaining headstones are under this tree (2015).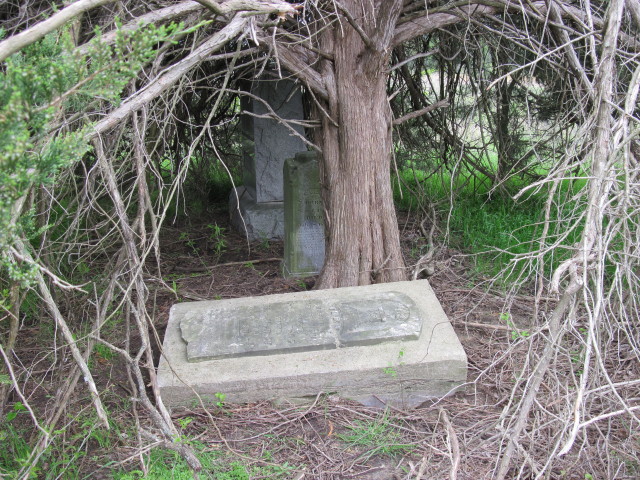 The view of the 3 headstones under the tree. The large one at the back is the memorial marker for Henry Tandy Lewis with Harman Cemetery inscribed on the bottom. In front of that is the headstone for H. T. Lewis and in front of it is the marker for John Lewis Harman.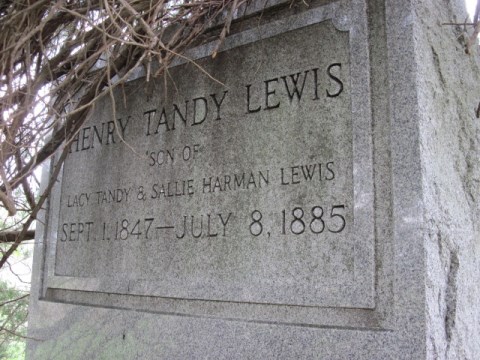 This is the top of the memorial marker that is inscribed "Harman Cemetery" on the bottom.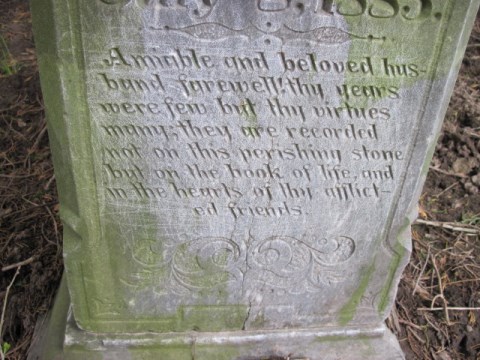 This is the headstone for H. T. Lewis with a closeup of the inscription on the bottom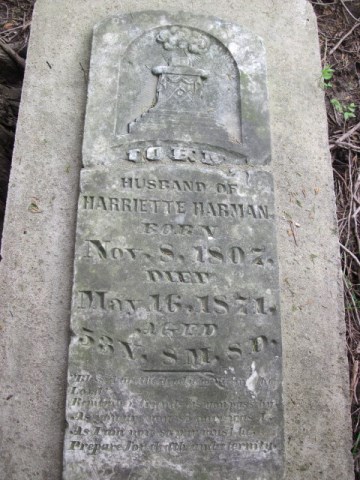 Headstone for John Harman, husband of Harriette Harman. Inscription at bottom of this stone reads:
Blessed are the dead who die in the Lord.
Remember friends as you pass by
As you are now so once was I,
As I am now so must you be,
Prepare for death and eternity.